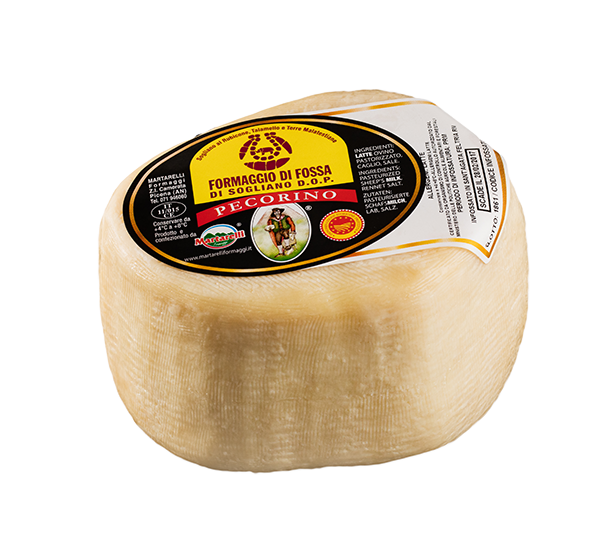 Pecorino di Fossa DOP
Ingredients

Semi-skimmed sheep's milk, rennet, salt. ITALIAN MILK

characteristics

Irregular pressed shape, soft and creamy texture, strong taste with its own particular smell.

Aging

Minimum 9 months
Product Description
Local Vallesina Pecorino is aged in the tuff trenches of Sant'Agata Feltria (This cheese is being formalised with the DOP national standard). The Pecorino di Fossa comes from an ancient tradition and every shape represents a long process and natural fermentation. Each piece is unique and irregular, to be discovered both in terms of its shape and flavour. The colouring by its various molds narrates its ancient tradition. After 3 months of burial, it is ready to give us its unique strong and tangy flavour and its light, soft and spongy texture.
The Pecorino di Fossa unites the typically local pecorino cheese of the Marche region with the strong flavour found in the Romagnola tradition to create a cheese with an unmistakable aroma.
How is Pecorino di Fossa DOP made?
After the ageing process, the cheese, made from sheep's milk, is selected and closed in large natural canvas bags which are then placed in four-metre deep trenches and covered with leaves and straw.
A small drainage hole is made at the bottom of the trench to collect the oils derived from the fermentation process. At the end of August the trenches are closed with plaster and pebbles, to be reopened in November on the saint's day of Saint Catherine.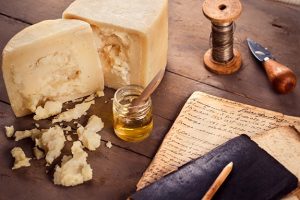 The pleasure of made in marche
#marchigianovero